Von

Rillsoft
04 Oct, 2023
Efficient Vacation Planning with Rillsoft Project
Vacation planning is an essential task in every organization. It requires not only careful coordination but also efficient management of vacation requests and precise consideration of employee workloads. This is where vacation planning software comes into play, helping companies optimize this process and effectively manage their employees' vacation needs.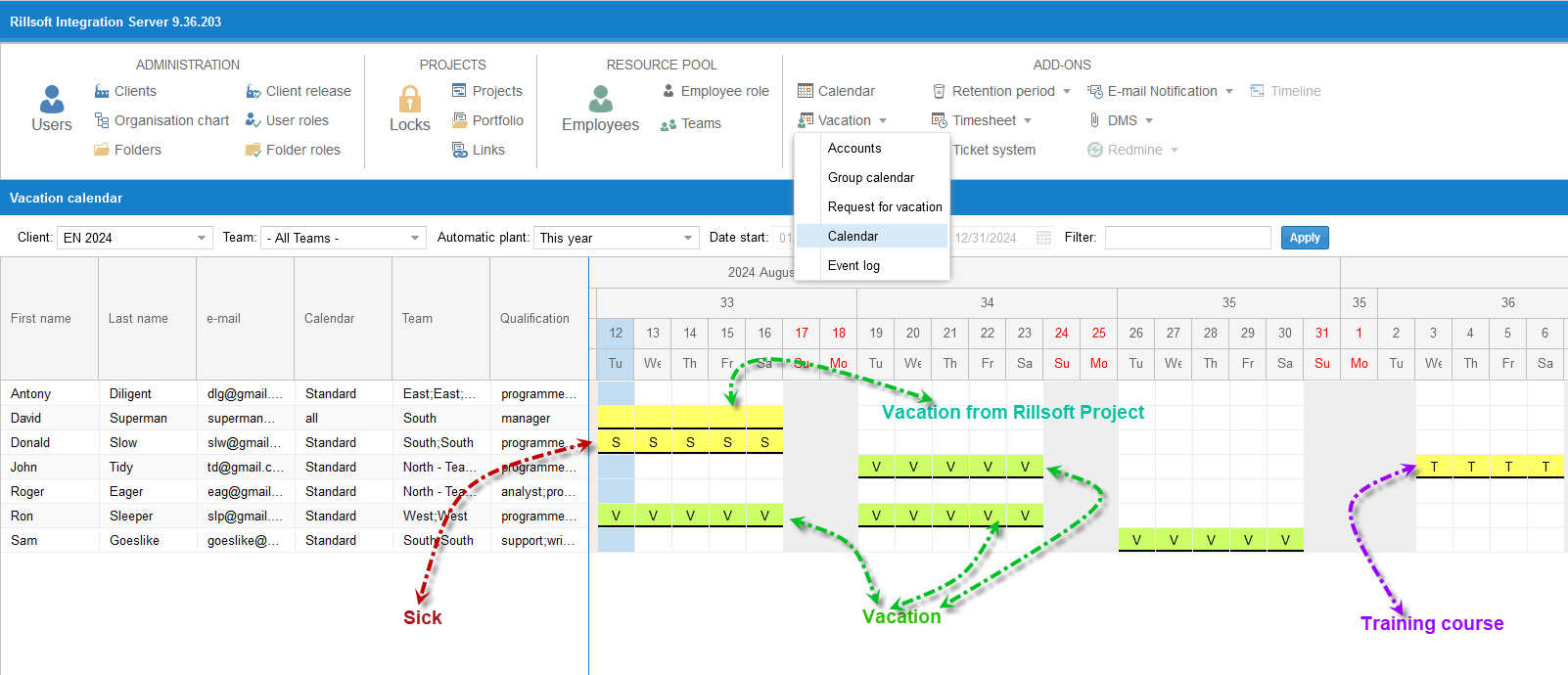 Choosing the right vacation planning software can significantly streamline the process and boost efficiency. While Rillsoft Project is primarily project management software used for planning, managing, and monitoring projects and wasn't specifically designed for vacation planning, it can be utilized in conjunction with other tools and techniques to support vacation planning within a company.
The Importance of Vacation Planning Software
Vacation planning is a time-consuming task that can lead to inefficiencies without the right tools. Manual processes and the use of spreadsheets can result in errors and increase the workload for HR departments or project managers. For this reason, many companies opt for vacation planning software to automate and simplify the process. However, certain features are crucial when selecting the right software.
1. Online Vacation Requests
The ability for employees to submit vacation requests online through the software is a fundamental yet extremely important feature. This aspect of the software not only simplifies the request process for employees but also allows the HR department to centrally manage requests and keep track of vacation needs. With Rillsoft Project, employees can easily submit their vacation requests by logging into the system and selecting their preferred dates.
2. Conflict Checks
One of the challenges in vacation planning is ensuring there are no overlaps between desired vacation days and employees' scheduled tasks. This is where Rillsoft Project's second important feature comes into play. The software automatically checks for conflicts and issues warnings if any are found. This feature prevents potential conflicts and enables the HR department to find alternative solutions before approving or rejecting vacation requests.
3. Consideration of Remaining Leave and Time Conflicts
Vacation planning software should not only manage requests but also consider employees' overall availability. Rillsoft Project goes a step further by taking into account remaining leave and time conflicts with scheduled tasks. For example, if an employee has only a few vacation days left or is already engaged in important projects, the software can factor this into the decision-making process, assisting the HR department in evaluating vacation requests fairly and equitably.
4. Resource Management
Rillsoft Project allows for resource management, including employees. You can set employees' work hours, including their vacation times and workloads. This enables you to plan employee availability in advance and ensure there are no conflicts between vacation and project work.
5. Calendar Features
Rillsoft Project offers extensive calendar features that allow you to define work hours, holidays, and vacation times for your team. You can create custom calendars for different employees and ensure that vacation times are incorporated into project schedules.
Software Solution for Your Needs
Vacation planning is a demanding task that requires careful management in every organization. Rillsoft Project provides a solution that integrates online submission of vacation requests, conflict checks, and consideration of remaining leave and time conflicts into the decision-making process. When choosing vacation planning software, these features should be central to ensure that your company optimally manages employees' vacation needs.
Overall, Rillsoft Project demonstrates how powerful software can make vacation planning in businesses more efficient. The days of HR departments painstakingly sifting through Excel spreadsheets are a thing of the past. With modern vacation planning software, companies can better manage their resources and ensure that employee vacation time is distributed fairly and transparently.
In a time when work-life balance is increasingly important, and employees demand a balanced workload, reliable vacation planning software like Rillsoft Project can make a significant contribution to employee satisfaction and productivity. Therefore, companies should carefully assess which software solution best suits their needs and ensure it provides the above-mentioned features for effective vacation planning.
Vacation planning is a crucial part of personnel management, and a high-quality software solution can help make this process smoother and more efficient. With the right tools, companies can ensure that their employees enjoy their well-deserved breaks without compromising operational efficiency.