Von

Rillsoft
27 Sep, 2023
Effective conflict resolution and resource management with Rillsoft Project
Staff scheduling is a crucial aspect in the project management world. Correctly assigning employees to tasks and ensuring a balanced workload are crucial to the success of projects. In this regard, Rillsoft Project has proven to be an extremely valuable software that helps organizations effectively manage conflicts related to resource overlap and workload issues.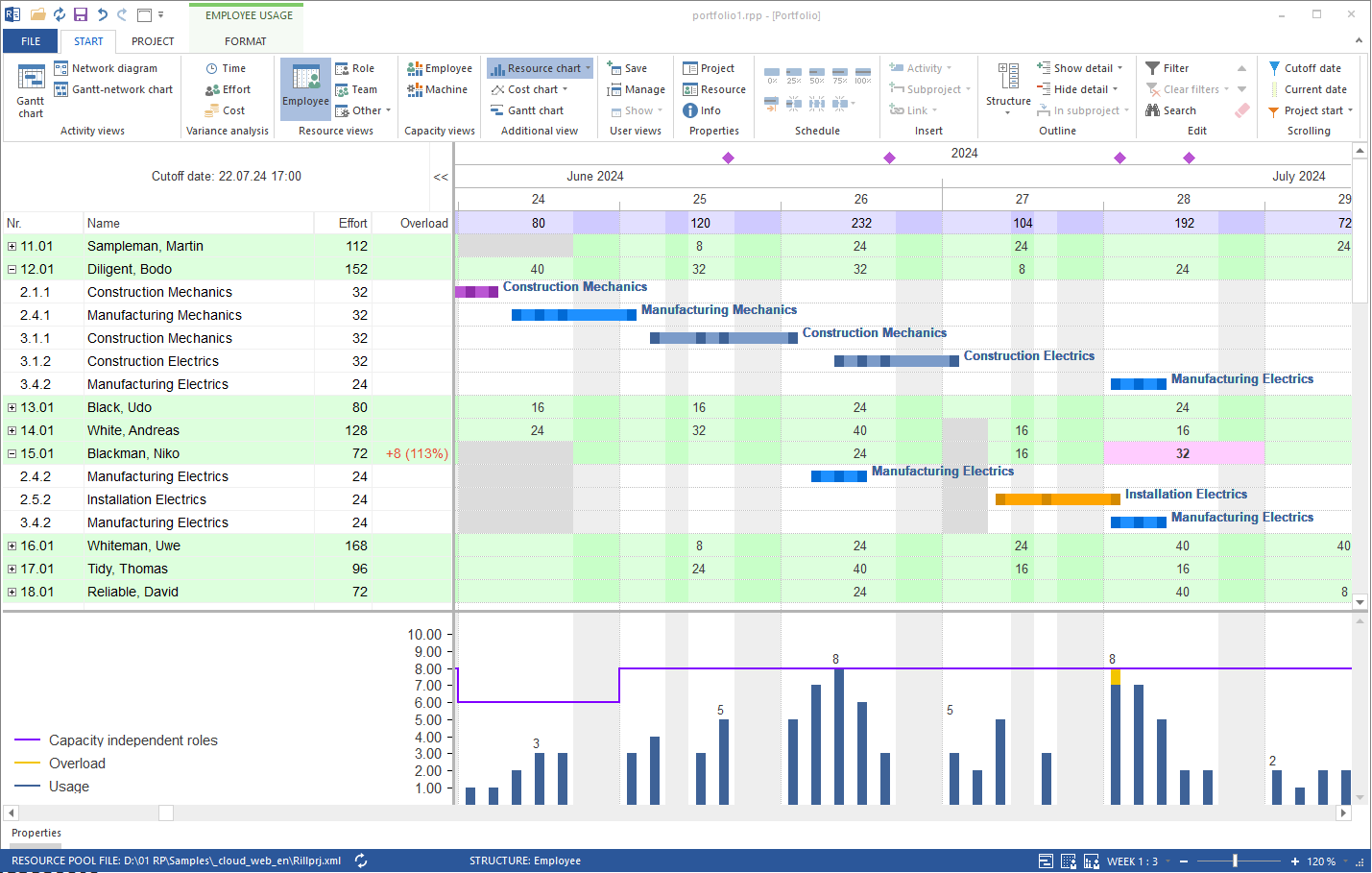 Resource Planning and Staff Scheduling: The Challenges
Resource planning and staff scheduling are critical in any project management process. Organizations often face several challenges when it comes to efficiently assigning staff to projects:
Resource Overlap This occurs when multiple tasks require the same staff at the same time. This can lead to delays, quality issues and frustration among team members.
Workload Problems When employees do not have enough time to complete all of their assigned tasks, this can lead to overworked employees and lack of productivity.
Consideration of Work Time Off Employees often have vacation days, holidays, and other days off. Scheduling must take these times into account to avoid conflicts.
Managing Skills Not every employee is suited for every task.
Consideration of employee job qualifications and skills is a critical aspect of staff scheduling on projects. Employees with the right qualifications and skills are able to complete tasks more efficiently and with higher quality, and conversely, assigning employees without the necessary professional skills can lead to errors, delays, and additional costs.
Solution to Resource Conflicts and Staffing Problems
Rillsoft Project is a powerful project management software that offers a wide range of tools and features for effective resource planning and management. Here are some ways Rillsoft Project helps manage resource conflicts and staffing issues:
Resource Management and Allocation. Rillsoft Project allows you to define each employee and resource in your project. You can define their availability, skills and working hours. Based on this, you can plan tasks and projects and assign resources accordingly. This significantly minimizes the risk of resource overlaps.

Calendar management Rillsoft Project allows you to create individual work calendars for each employee or resource. This includes working hours, breaks, vacation days and vacations. In this way, you can ensure that scheduling takes into account individual availabilities and avoids conflicts.

Project prioritization In Rillsoft Project, you can prioritize projects and define dependencies between them. This allows you to prioritize urgent projects and ensure that employees work on the most important projects first.

Resource Pool A special feature of Rillsoft Project is the resource pool. Here you can manage employees and resources centrally and then assign them to different projects. In Rillsoft Project, you can create detailed resource profiles that contain information about employees' skills, qualifications and experience. These profiles can include information such as education, certificates and professional backgrounds. This enables efficient use of resources in different projects and prevents overload or underload.

Graphical representation and reports The software offers a variety of graphical displays and reports that give you a clear overview of the utilization of your resources. You can easily identify bottlenecks and take timely action.

"What-if"-Scenarios With Rillsoft Project, you can create "what-if" scenarios using alternative portfolios to test different resource planning strategies. This allows you to see in advance how changes would affect resource availability and the project schedule.

Automated Planning Support Rillsoft Project provides automated planning support features to help you allocate resources. You can set rules and criteria by which the software automatically assigns resources, saving you time and effort. The software allows you to filter and sort employees and resources according to their qualifications and skills. This makes it easier to identify employees who are best suited for specific tasks or projects. Furthermore, a feature is available that allows you to automatically assign employees to specific tasks based on their qualifications and professional skills. This ensures that the right employees are selected for the right tasks.

Integration with other tools The software can be integrated with other products such as MS Excel to facilitate information sharing and collaboration.
Conclusion
Staff scheduling and resource planning are crucial elements for the success of projects. Rillsoft Project provides a comprehensive solution for managing resource conflicts and staffing issues. By efficiently managing resources, accounting for time off work, and enabling the creation of "what-if" scenarios, companies can optimally plan and successfully implement their projects. Rillsoft Project makes it possible to allocate resources efficiently, avoid bottlenecks and increase productivity, ultimately leading to better project results. Resource planning and workforce scheduling are key aspects in the world of project management, and Rillsoft Project has proven to be a powerful tool to successfully address these challenges.